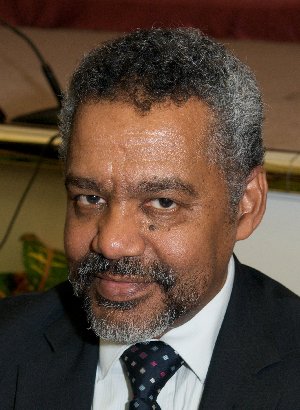 Abdelwahab Elaffendi worries of "alienation nearer to home"
as the government steps up military campaigns against 'aliens' far from home
Abdelwahab Elaffendi
was once upon a time a leading Sudanese Islamist scholar. Now professor at the University of Westminster, he recently wrote a rather banal op-ed on Aljazeera English on the ostensible deterioration of Sudanese politics and the
loss of "habitual civility"
of the so-called Sudanese generations. The substance of the article can be reduced to a number of features: reflexive, observational, morose, weary, helpless, fearful, hopeful for the wrong reasons, and--as always--unapologetically pro-Islamist establishment.
Warped Reality
Elaffendi worries of a trend of "alienation nearer to home" whereby some government official was denied opportunity to pay respects to the venerable and vulnerable Mahjoub Sharif who lay on his death bed. Younger members of the Sharif family "had other ideas", the Islamist tells us.
Elaffendi also worries that Nafie Ali Nafie, an ex-security chief know as the Doctor Doom of rendition, was chased away from the lamentable death of some "young pharmacist shot dead during last September's protests" (as he puts it). Note Elaffendi does not recognize the name
Salah Sanhouri
.
In all this Elaffendi worries that rebellion expressions are coming closer to the center:
These steps [signal] a radical departure from habitual Sudanese civility... Is this a sign of a further deterioration in social relations, or a positive indication that people are now expressing themselves with increasing frankness, which is essential for genuine dialogue?...Indeed, the uncompromising (not to say abusive) language one encounters on the myriad of websites expressing dissident views is very disturbing, and is one sure sign of the deterioration of Sudanese politics.
On telling my sibling of Elaffendi's remarks, they said:
Elaffendi reminds me of those old British forces that complained of effective and novel hit-and-run tactics employed by American militias, in contrast to British expectation of open battlefield, musket for musket. The British wanted the Americans to show a little decorum (and to be good chaps and take it up the wazoo...[how is that for polity Elaffendi?]). The Americans, naturally, didn't want that. Elaffendi is making similar remarks about the underground freedom movement, that it is uncharacteristically lacking in adab (manners) and polity with the rulers of blood and iron.
We live in incredible times.